EY's annual Funds Forum took place on Tuesday, 6 December at the Shelbourne Hotel in Dublin. The event brought together the industry's biggest players to discuss the latest trends and developments in the funds industry, on the theme of 'Exploring Opportunities in Uncertain Times'
The Regulatory perspective was provided by keynote speaker Derville Rowland, Deputy Governor of the Central Bank of Ireland, covering the latest developments with regards to Ireland's role in European regulatory conversations, as well as the Irish perspective in terms of regulatory progress in the Financial Services industry. Patrick Burke, Managing Director of Irish Life walked us through the ever-stringent ESG agenda and how best the industry can prepare and navigate the challenges of sustainability in modern business practices.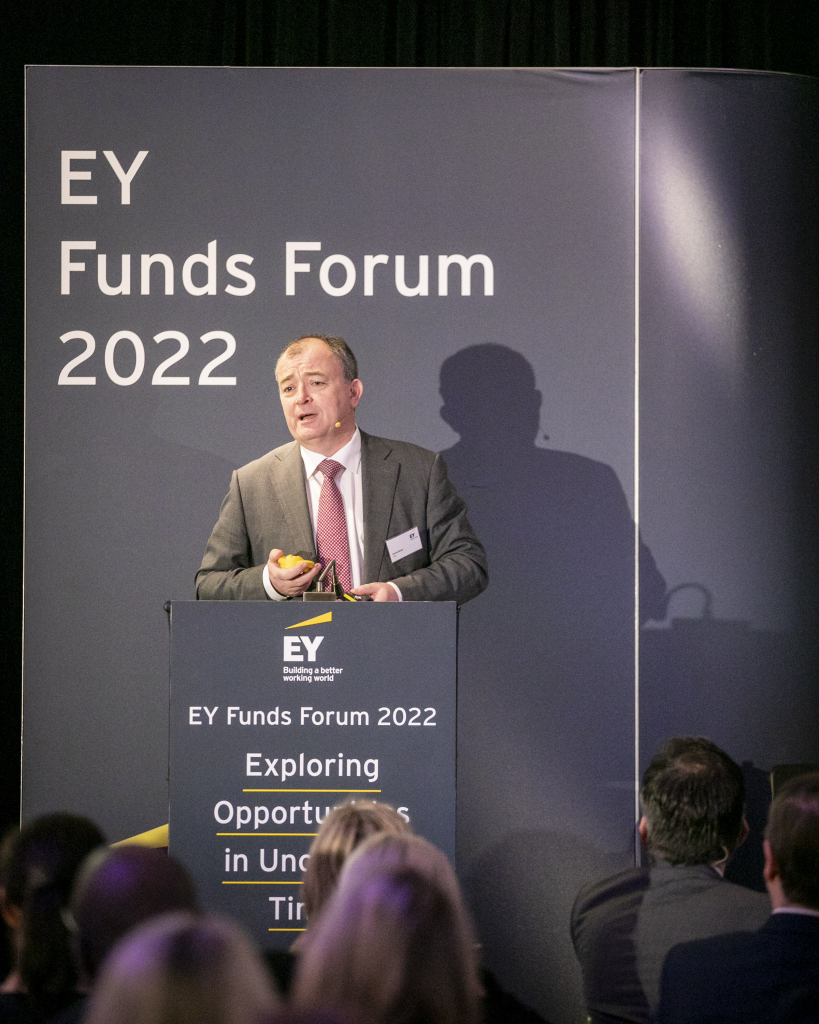 Patrick Burke, CEO, Irish Life Investment Managers giving his keynote speech 'A compass to guide us on our ESG journey'.
The imitable David McWilliams took us on a journey from the lyricisms of Irish poetry to the volatility of the housing market with a firm lens on the financial services industry and how unconventional and outside-the-box thinking should play a part in guiding the sector through these uncertain times.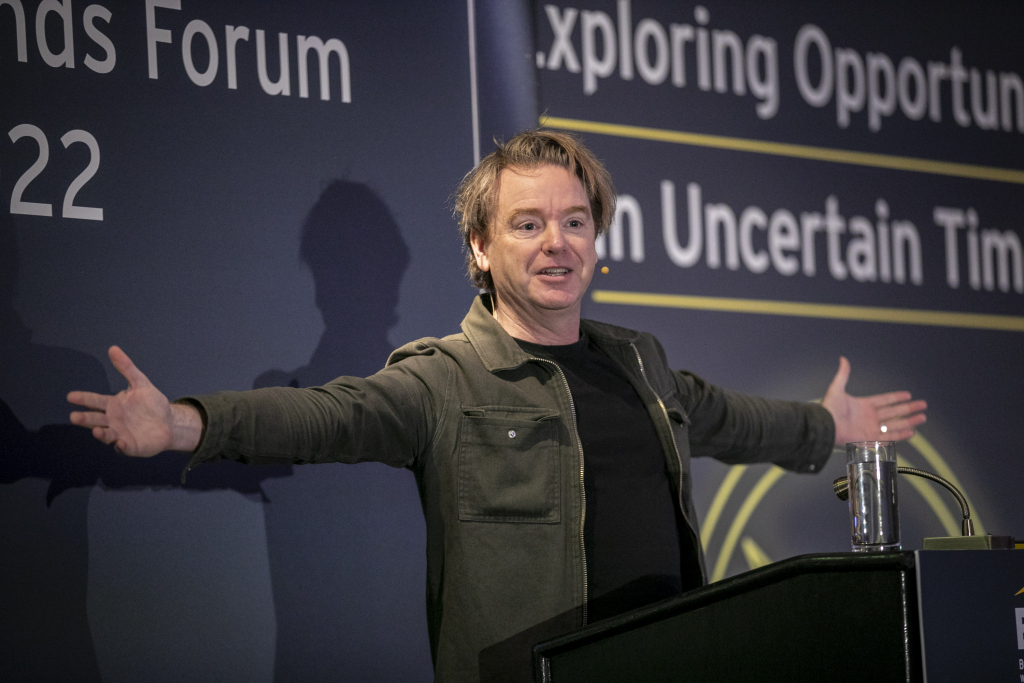 David McWilliams addresses the crowd at the annual EY Funds Forum event.
Panel discussions examined the role of talent in creating an innovative and flourishing sector, with agreement that employee culture is vital to attract and retain talent.  We also discussed the necessity of the funds industry in remaining calm and focused during turbulent times.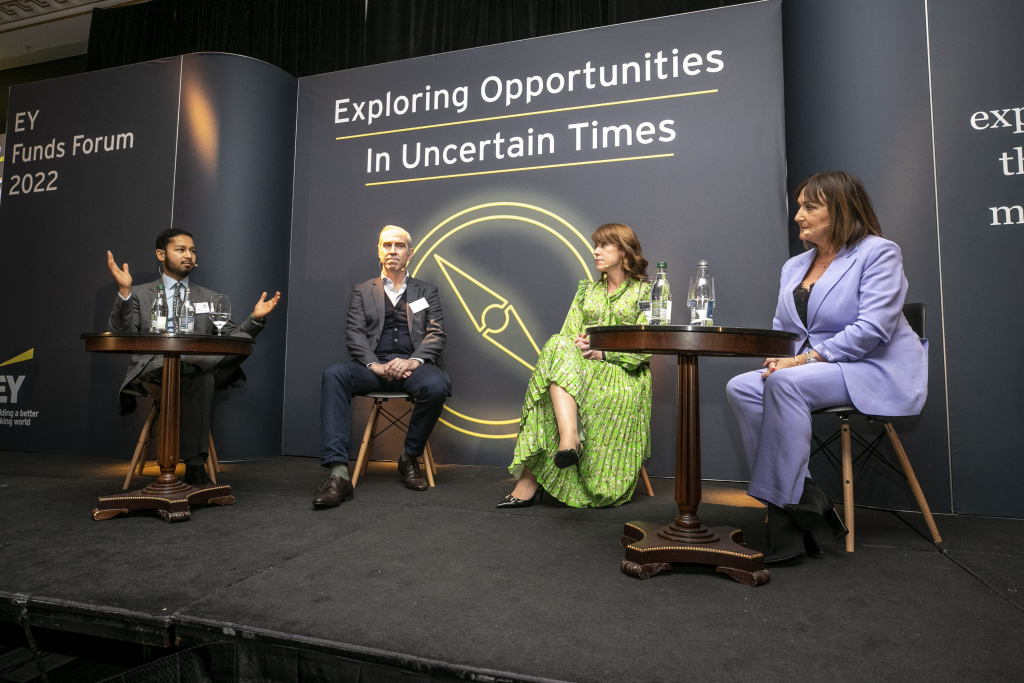 Panel: Navigating stormy seas with a beacon of light
Pictured left to right: Devarshi Ray, Partner, Strategy and Transactions, EY Financial Services, David Nangle, CEO, VEP, Ann Prendergast, CEO, State Street Global Advisors Europe Ltd and Carmel Jordan, CEO, Mercer Global Investments Management Ltd.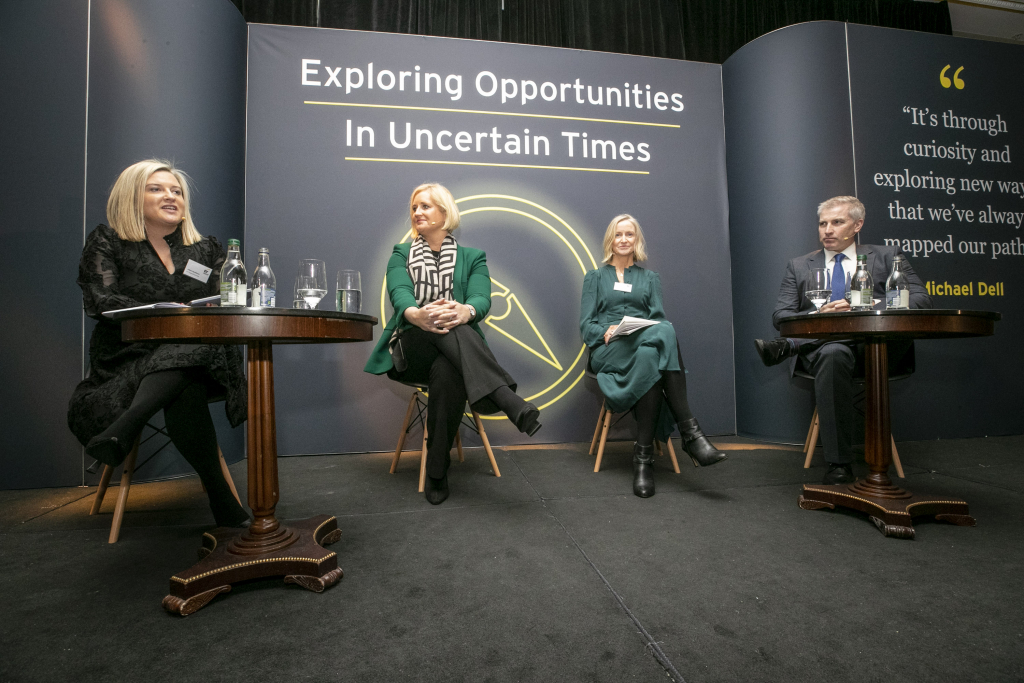 Panel: Steering the ship to the promised land
Pictured left to right: Ailbhe MacManus, Assurance, EY Financial Services, Jackie Gilmore, Partner, People Consulting, EY Financial Services, Anne Keys, Joint Managing Partner, The Panel and Ciaran O'Hare, Head of HR Ireland, Northern Trust.
Huge thanks to all who took part!  Fantastic to meet up in person once again.
Some nice takeaways from our speakers in our short video below.
Contact Us
If you would like more information on how EY's team of experts can help, please reach out today.