---
When you're at your best, we're at ours, and the EY benefits package goes above and beyond. We recognise and reward the value you bring to our business. We focus on your physical, emotional, financial and social wellbeing. You receive a wealth of opportunities and benefits to help you achieve success in every aspect of your life.
At EY Ireland Financial Services, you'll be provided with the experiences, training and coaching you need to achieve your potential. We use a structured, global career development program that gives you the framework to reach your goals and realize your ambitions. Our full benefits package is outlined here.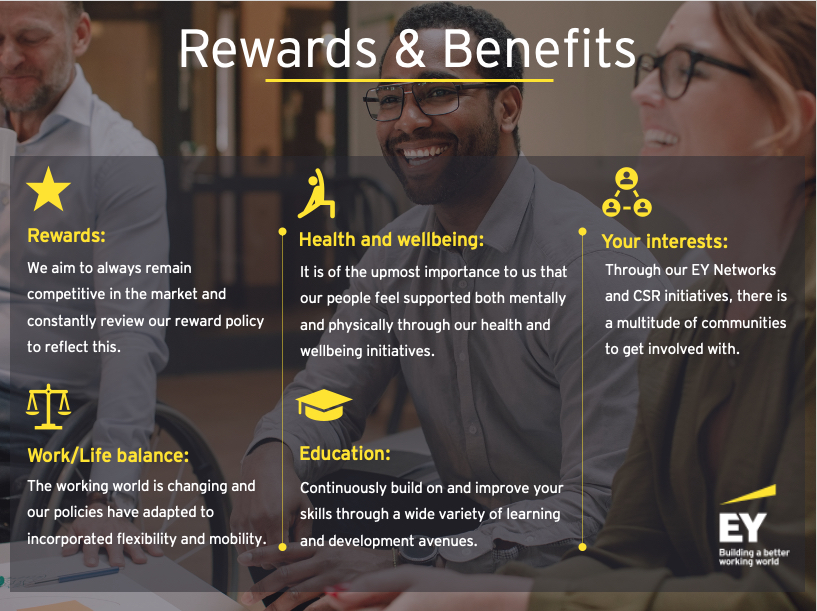 Our career development framework provides you with the skills, knowledge and confidence that will be essential to your ongoing success; helping you to progress at whatever level you join.
We understand that good leadership is important. So we'll give you the tools, support and know-how to move your career in the direction that most interests you, giving the variety of experience that you'll be able to draw upon throughout your career.
Your development is at the heart of our culture. It contributes to an engaging and positive workplace for all, provides opportunities to reward and recognize you and helps deliver a differentiated service to our clients. In short, it is the foundation for continued success – yours and ours.
Our mentoring and counselling programs help our employees develop both professionally and personally. On-the-job coaching helps you gain a broader perspective, increases clarity and addresses particular issues and challenges. Performance conversations allow you and your counsellor to evaluate your performance by bringing together and considering multiple views. Career development conversations challenge you to explore your individual interests, aspirations, needs and options. They also create meaningful goals — both from an annual perspective and over the longer term. And finally, mentoring gives you guidance, insights and practical advice on a variety of professional development and career topics.
Our success — and that of our clients — depends on our people, so we take your development seriously.